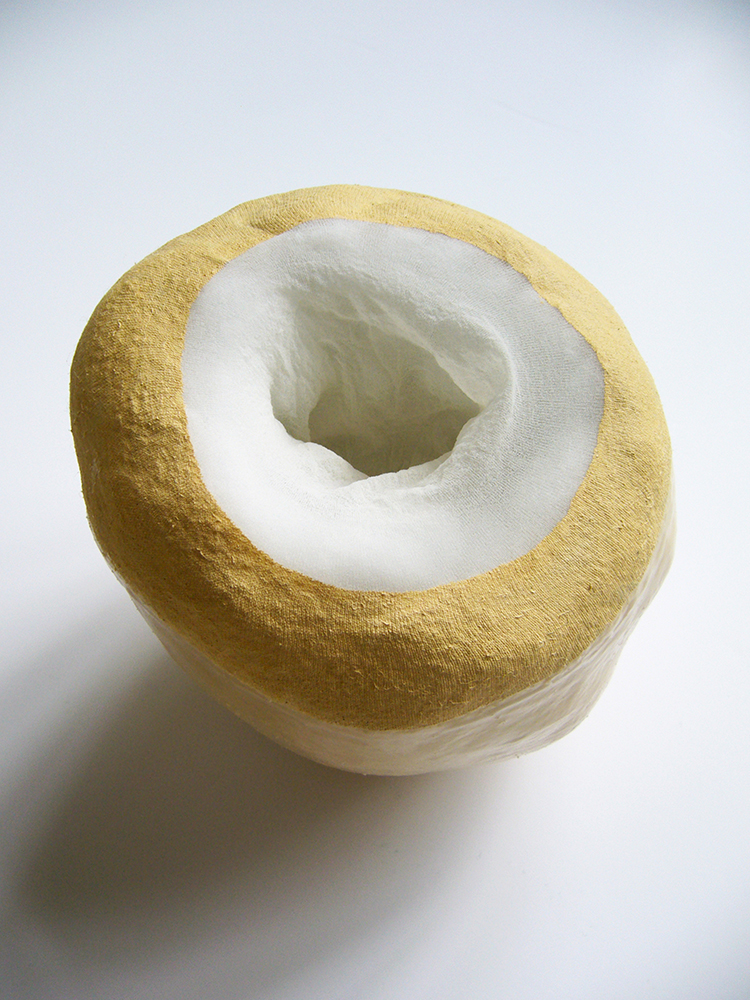 This white cavity protected by a membrane and a cumin-yellow shell appears to conceal a virginal mystery within. The softness and purity of this object is reassuring, but the cavity perplexes us. Like an oracle, this fragile volume, a breathing mouth in its frothy textile, is a suggestion of visions. The three levels of matter incite an irresistible urge to touch, like a burning desire for answers to our quests.
Paint, resin, textile, ∅ 15 cm – Oracle © All Rights Protected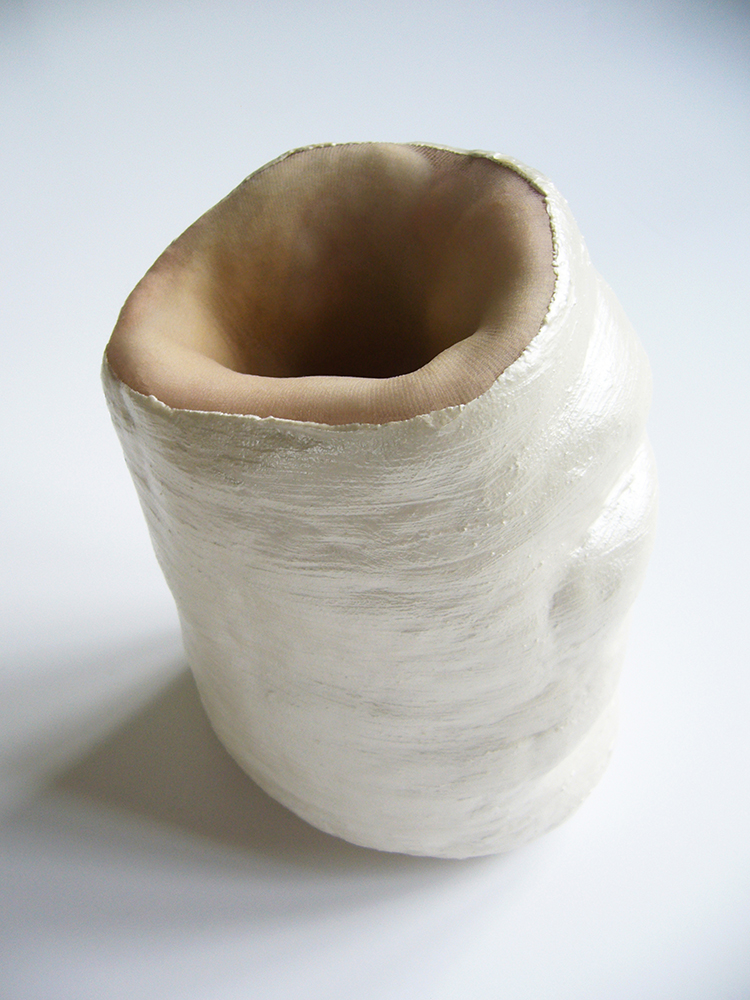 This cylindrical object, open at both ends, displays a cozy interior wrapped in a shell of pearly reflections. The fine exterior surface is reminiscent of the body's epidermis, while the dark interior color evokes the flesh. Around the hands, this organic muff acts like a protective skin graft.
* Muff, Plaster, textile, H 18 cm, ∅ 13 – Manchon © All Rights Protected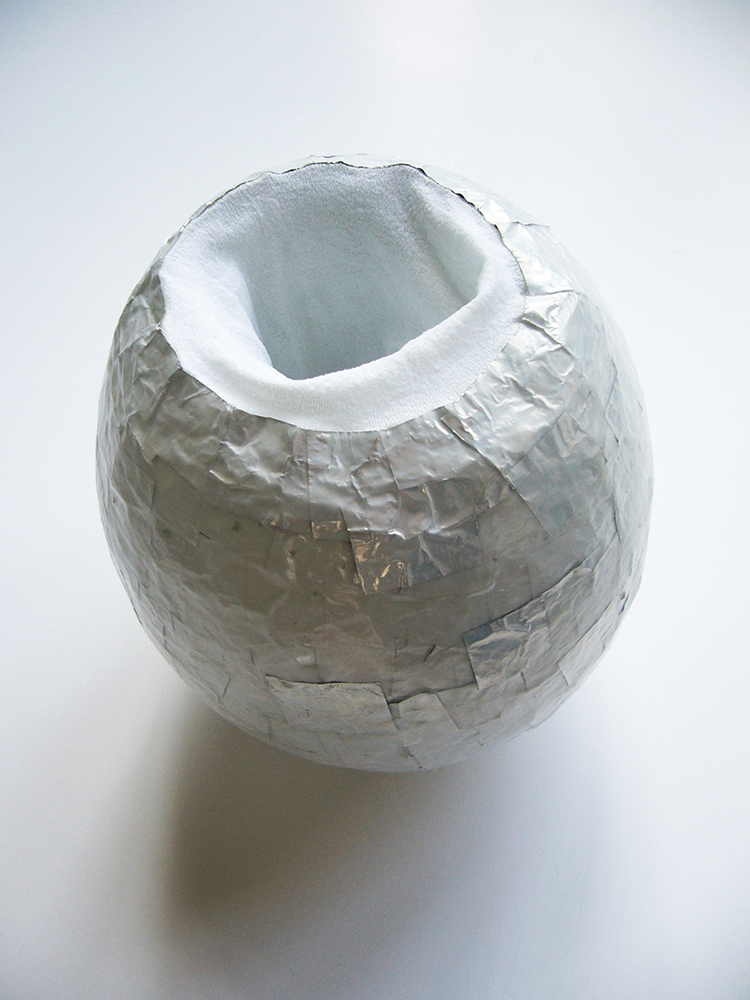 Beneath a thick brittle shell lies a soft white lining of an edible nature.
This fruit with a cosmic envelope is a promise of energy, once the spoon is turned in its coconut-like flesh.
* Shell fruit, Coated aluminum, textile, H 20 cm, Ø 15 cm – Fruit à coque © All Rights Protected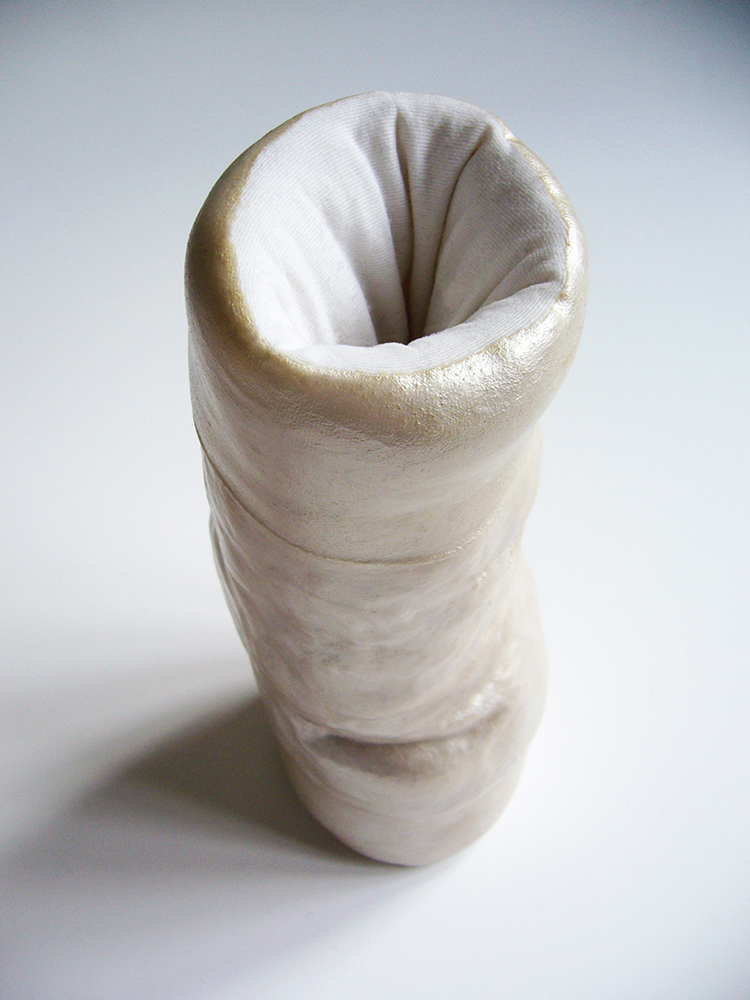 This vase, a totem erected in homage to organic matter, is conceived as a narrow passageway, closed and secret, through which one must plunge in order to break through to freedom on the other side. The exterior surface, solid and supple, with luminous iridescent flesh tones, and the warm interior together evoke an engulfing tunnel journey from which one emerges like one reborn from a transcendental experience.
* Way, textile, coating, H 25 cm, Ø 10 – Passage © All Rights Protected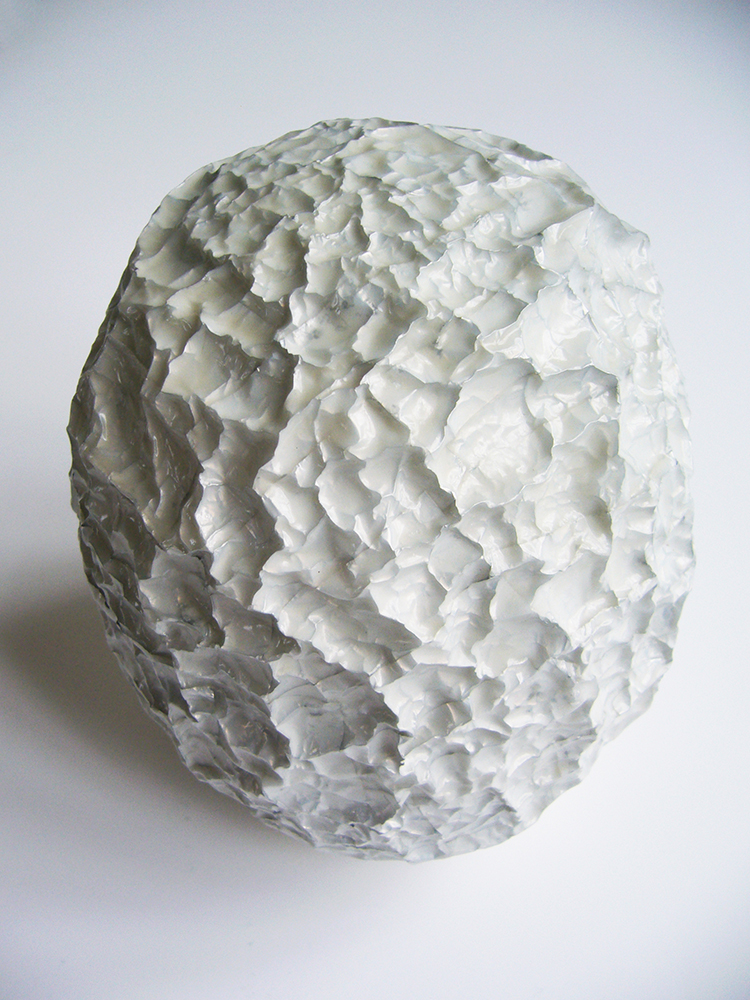 This ovoid form suggests a foreign fragility with its crackled aspect. It evokes a fossil animality in long hibernation, a being in gestation one prefers to observe and dares not awaken. The slumbering strength of this presence inspires admiration, which like the egg, is realized with retreat and respect.
* Fertility, Coated aluminum, textile, H 20 cm, Ø 15 cm – Fertilité © All Rights Protected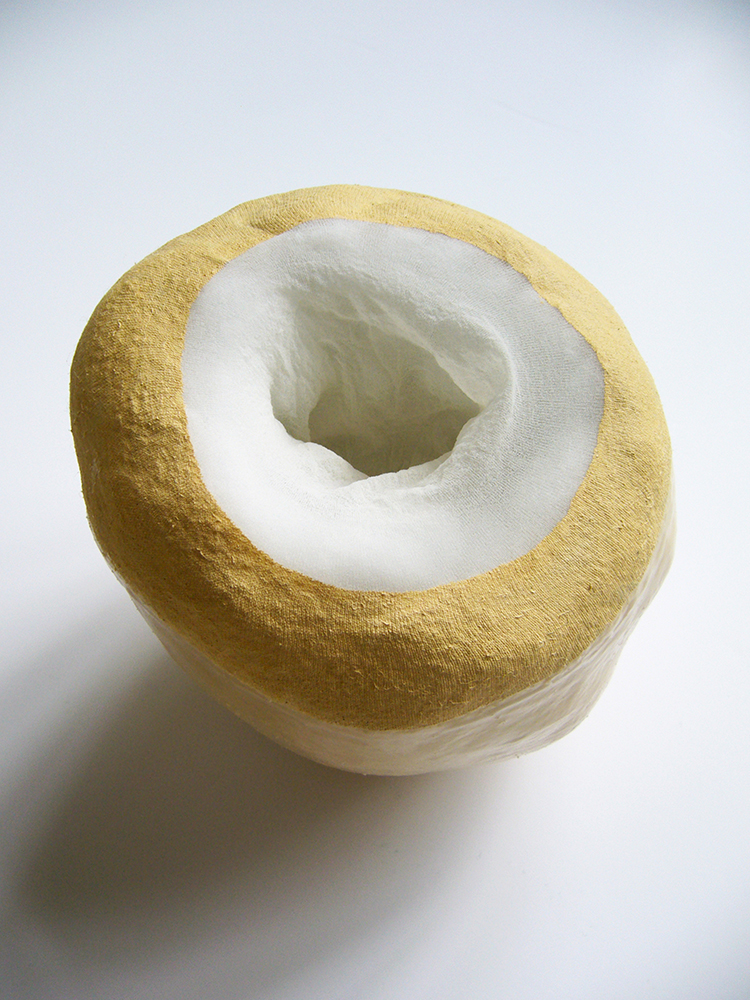 Cette cavité blanche protégée par une membrane et une coque jaune cumin, semble renfermer en son sein un mystère virginal. La douceur et la pureté de cet objet nous rassure, mais sa cavité interroge. À la manière des oracles, ce volume fragile, bouche respirante dans son textile mousseux, semble nous suggérer ses visions. Les trois strates de matières suscitent une envie irrésistible de les toucher, comme autant de volonté d'obtenir des réponses à nos interrogations.
Peinture, résine, textile, ∅ 15 cm – Oracle © Tous droits réservés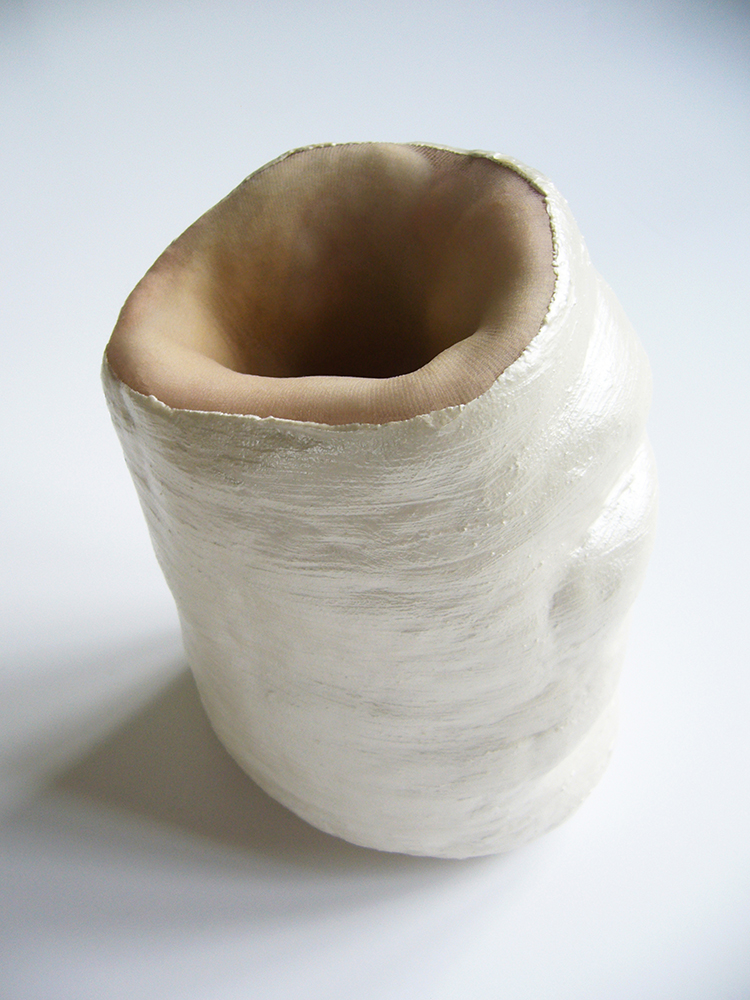 Cet objet cylindrique ouvert aux deux extrémités, enveloppe dans une coquille aux reflets nacrés un intérieur douillet. La fine surface extérieure rappelle l'enveloppe corporelle, tandis que la couleur sombre interne évoque la chair. Autour des mains, ce manchon organique agit comme une greffe protectrice.
Plâtre, textile, H 18 cm, ∅ 13 cm – Manchon © Tous droits réservés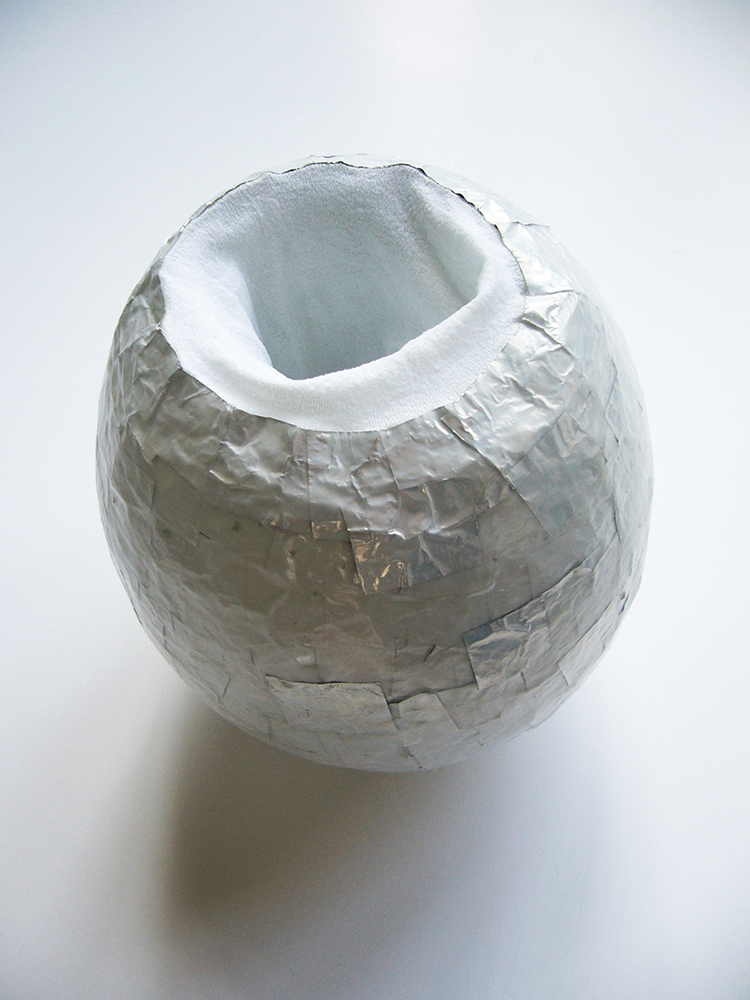 Dans une coque épaisse et cassante, une paroi molle et blanche laisse supposer une matière comestible.
Ce fruit à l'enveloppe cosmique est une promesse d'énergie, une fois la cuillère tournée dans sa chair à l'allure noix de coco.
Aluminium, textile, Polyamide et élasthanne, H 20 cm, Ø 15 cm – Fruit à coque © Tous droits réservés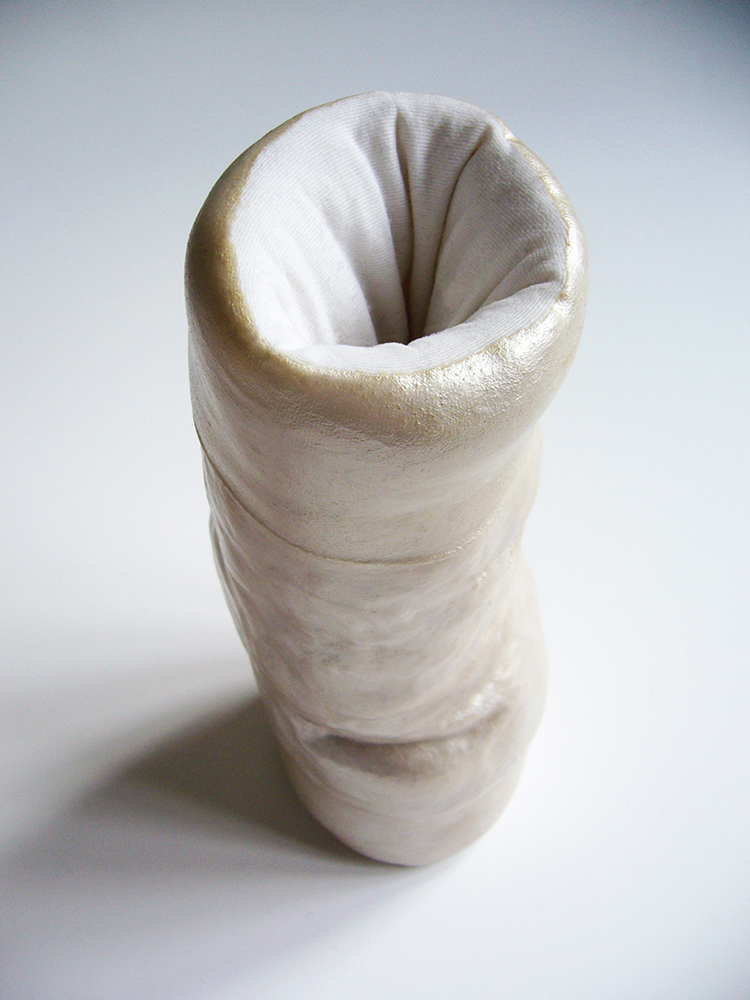 Ce vase, totem érigé en hommage à l'organique, matérialise un passage étroit, renfermé et secret, dans lequel il faut plonger pour s'affranchir d'une étape et trouver l'issue. La paroi extérieure, solide et souple, à la couleur lumineuse chaire nacrée, et l'intérieur chaud, évoquent un tunnel où s'engouffrer puis s'extirper, une naissance qu'il est nécessaire de vivre, une traversée salvatrice.
Enduction, textile, H 25 cm, ∅ 10 cm – Passage © Tous droits réservés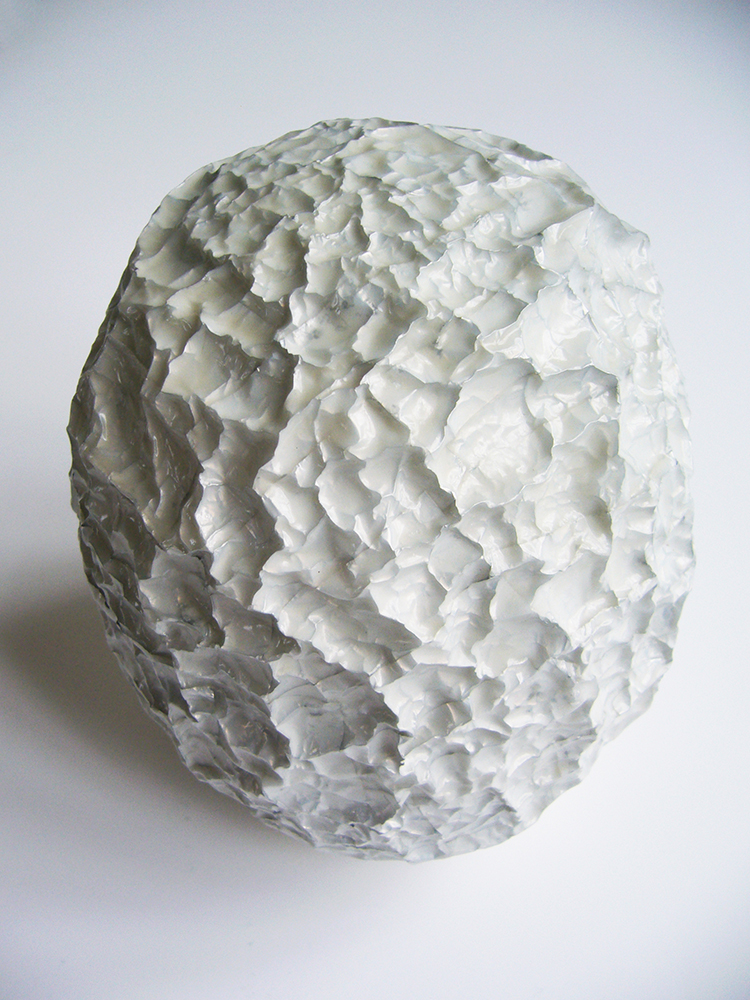 Cette forme ovoïde nous renvoie une image fragile et inconnue par son aspect craquelée. Elle évoque une animalité fossile, longtemps endormie, un être en gestation que l'on préfère observer et que l'on n'ose déranger. La force ensommeillée de cette présence lui vaut une admiration, qui, comme l'œuf, se fait dans le retrait et le respect.
Enduit aluminium, textile, H 20 cm, Ø 15 cm – Fertilité © Tous droits réservés